Indian Civilization perceives the entire universe as its own family. Revered Didi Maa-as a messenger of the Indian Civilization, which envisaged "Vasudhaiv Kutumbakam" (Universe Itself is a Family) – strongly believes there should be no orphans in a country of Vishwnath (Lord of the Universe) In ancient India, in case some child had to live bereft of mother's love, that child was brought up in some Rishi's abode and subsequently he was respectfully established in society. Maharshi Ved Vyas – author of so many scriptures, was found estranged on an inland and was educated at a Rishi's home and eventually he showed the way to enlightenment to the entire world. Not only the Rishis but the kings also used to care for such children in ancient times. King Janak found a girl from soil inside who became the beauty of his palace and later became world famous as Mother Sita.
Vatsalya Gram, Vrindavan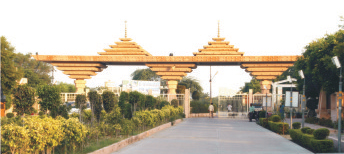 By following the same ancient Indian tradition, Revered Sadhvi Ritambhara Ji established Vatsalya Gram on the holy land of Vrindavan where children bereft of their mothers' love can avail loving hugs from devoted women. Vatsalya Gram is an innovation concept of Didi Maa that has left the world awestruck. In every Vatsalya family there are five girls, two boys with an aunt and grandma who complement each other, in spite of having no blood relationships. Vatsalya Gram is replete with affectionate relationships. Under the holy guidance of Didi Maa, the atmosphere of ancient Gurukulas has been resurrected.
Vatsalya Mandir (Cradle House), Jwala Nagar, Delhi
Children are forms of God and all newborns should be welcomed into this world with love. Due to inextricable social complexities some infants are abandoned by their parents on the roadside. As a result, they either give up their lives amidst aggressive surroundings or they become victums in the hands of antisocial elements and many fall prey to human trafficking. Vatsalya Mandir, Cradle House in Jwalanagar, Delhi was established by Param Shakti Peeth to address this serious problem. Cradle House is a shelter for newly born children who are given up by their parents in a helpless state on the roadside. This center cares for their childhood needs and makes arrangement for their education as well as rehabilitation.
Vatsalya Gram, Omkareshwar (Madhya Pradesh)

This service center of Param Shakti Peeth is situated near the holy town of Jyotirlinga – Omkareshwar in Madhya Pradesh. It is a gleam of hope for the have -not s of surrounding villages. With holy inspiration from Didi Maa Sadhvi Ritambhara, a free residential girls school is being run for the poor tribal girls. Here, students are able to use the available residential facilities, food, uniforms, books, etc. A school building for High School Standards based on CBSC syllabus is also under construction.
Vatsalya Gram, Vill.– Variya, Nalagarh, (Himachal Pradesh)
This center in the land of Gods – Himachal Pradesh is in the process of development. This is a beautiful place all surrounded by mountains. In the campus of this center are to be constructed a temple, a guesthouse and a higher secondary school with hostel facilities.
Vatsalya Gram, Sijai, Distt–Chhatarpur (Madhya Pradesh)
In the race for progress, this area of Madhya Pradesh has been mostly left behind. As per Revered Didi Maa's determination, Param Shkti Peeth is playing a vital role in the development of this area. Here are being constructed A residential girls school and well arranged Goshala (cow abode) are under construction. Many works of public support like check dams, etc. are proposed.