Param Pujya Yugpurush Mahamandaleshwar Swami Paramananda Giriji Maharaj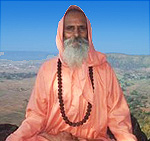 Pujya Acharya Mahamandaleshwar Yugpurush Swami Parmananda Giriji Maharaj, even though born in the backward area of Uttar Pradesh (India), in the village of Mawai, District Fathehpur, had been oriented towards renunciation since childhood. In 1956, Swami ParmanandajiMaharaj received his "Sanyasdeeksha" from the Revered Swami Akhanandanandji Maharaj. Swami Parmanandaji Maharaj had just finished high school at that time and at such a young age, under the supervision of his guru, he attained the gracious state of self realization.
Swami Parmanandaji Maharaj entered the society as a karmayogi, after attaining the experience of purity under his revered teacher, his primary objective being that of welfare. Swamiji found his solace in Kundalini Yoga, where he experienced transcendental consciousness.
By various methods of meditation and KundaliniJagran, Revered Swamiji transmits transcendental consciousness among the seekers of truth which leads them towards the stage of self-realization. The most powerful stream (words) of Vedanta (Upanishads) flow continuously from his mouth throughout the year. He calls for an end to the self-defeating tendency to worry and explains the ways in which the mind and heart can be made to bloom.
Swami Parmanandaji Maharaj is considered one of the most effective orators of his times. His conceptual grasp of the ancient texts are extremely clear and he discusses the Vedantas with a veracity that allows even laymen to feel convinced about the underlying messages and teachings. His fame has crossed the boundaries and he has been invited to the United Nations to speak at the 1st Millennium World Peace Summit of Religious and Spiritual leaders on August 28-31, 2000. In 2001 and 2002, he visited a number of places in USA and enlightened a large number of devotees and seekers.
Today, under the patronage of Swami ParmanandajiMaharaj, many projects are being undertaken to help the society.
Param Pujya Didi Maa Sadhvi Ritambharaji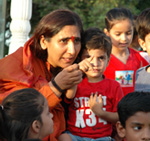 Over the years, DidiMaa Sadhvi Ritambharajee has emerged as one of the most prominent Indian spiritualist in the contemporary times. Though there have been many who have been charmed by the spiritual and the divine affection of the mother, it is only DidiMaa Sadhvi Ritambharajee who has tried to mould this affection into a village of maternal love.
DidiMaa Sadhvi Ritambharajee believes in the personification of the motherly love between Baby Krishna and Maa Yoshoda, who though not his birth mother, loved the baby more than any biological mother could. This is the essence of DidiMaa Sadhvi Ritambharajee's core beliefs and this is the vision that she has shared with many. This is the vision that has led to the formation of Vatsalya Gram.
It is very difficult either to quantify or to describe DidiMaa Sadhvi Ritambharajee's reach to the masses. It is not surprising that millions of people throng to listen to her thought provoking discourses – not only in India, but also in many other countries. So enthralled are people with her reason and her philosophies that they record her discourses and speeches so that it can be relayed anytime they want.
DidiMaa Sadhvi Ritambharajee reaches millions of homes everyday through the medium of popular TV channels where her bhakti sadhanas and pravachanas are telecasted everyday. She has been called a Tapa Siddha Sanyasini, a sage, whose devotion to the seeking of higher consciousness has borne fruit in this lifetime. Her Guruji, the Revered Yugpurush, asked her to devote her life to the welfare of the community and so she has done with unflinching devotion.
Under the inspiration, guidance and compassion of the great saint Pujya Acharya Mahamandaleshwar Yugpurush Swami Parmanand Giriji Maharaj, her sadgurudev, DidiMaa has dived into the depth of spiritualism to find the pearls of peace and tranquility. To realize her vision, she has renounced the worldly and material comforts. Today, she works to evoke the Indian mother's real spirit. DidiMaa Sadhvi Ritambharajee believes that every newborn is a divine creation since every soul is born to fulfill a divine mission. Deprived of parents, particularly mother, some children have to seek refuge in orphanages which never provide self respect and a sense of mother's protection which is normally available in a family, and so, the inception of Vatsalya Gram is another step in the direction of her vision.