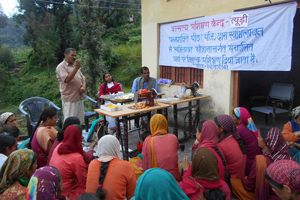 Being a disaster-prone country, India is highly vulnerable to various types of natural calamities due to its geographical positioning. According to the National Disaster Management Authority, Govt. of India, more than 58.6% of the country's landmass is prone to earthquakes and over 12% is prone to floods; close to 5,700kms out of the 7,516kms long coastline is prone to cyclones and tsunamis; while 68% of its cultivable area is prone to droughts.
These events call for a massive coordinated reaction within a very short notice because of their sudden occurrence and destructive nature. Humanitarian organizations are amongst the frontrunners of helping disaster-struck regions, often together with and sometimes next to local governments and the military.
Param Shakti Peeth brings life-saving support in times of disaster. We are committed to long-term rehabilitation, helping communities affected by natural disasters or conflicts get back on their feet. We also work to make vulnerable communities more resilient.
PSP has acted promptly to reach out and respond to the immediate needs of the disaster affected people, while also maintaining a sustainable approach to help them rebuild their lives by facilitating their education, healthcare and livelihood.